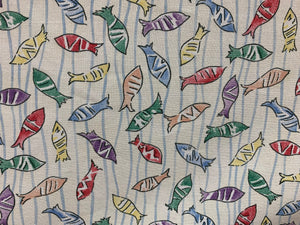 Fish print cotton fabric
Price is by the yard
*Please excuse the quality of the photos, we just wanted to get this up as quickly as possible :) If you'd like a better picture of any of them, please just give us a call or email sales@designerdiscountfabrics.net.
We're so happy to offer these 100% cotton, lightweight fabrics at a discounted price to help our fellow makers make masks for hospitals and organizations in need. Of course, these fabrics are still great for lightweight upholstery projects, draperies and accessories. If you need more than 10 yards, please give us a call so we can measure the entire roll for you.
We are not offering samples of these fabrics as they are in limited quantities, however if you are local and would like to pick the fabric up we'll be happy to bring a sample to your car for your approval before purchasing. Original prices vary from $9.95 and up.
Width: 54"
Contents: 100% Cotton
Repeat: Not available
Rubs: Not available
Country of Origin: Not available
If you are using these for making masks, please read below:
It's important to note that although we think the weight is fine for this use, these fabrics were not made for this purpose. They are 100% cotton and washable, which are the two most important specifics that most places asking for masks are requiring. We highly recommend washing the fabric before sewing as they will shrink a little after the first wash and will remove any top treatments that may have come on the fabric. For more information on mask making check out our post here

If you'd like to purchase handmade masks, find them here:  
*Disclaimer: Please note that colors on your screen may appear different then what the fabric actually looks like. We are only providing this as informational purposes and are not responsible for the quality of the masks you make. These fabrics are not CDC or FDA approved for this use. We are not responsible for how the fabric does or does not filter bacteria, nor do we make claims that it does or doesn't. This is all for informational purposes only, and suggest that proper use of a PPE like the N95 or other surgical mask is the very best way to avoid any bacteria or infection from any virus.