---
We have gotten a lot of requests from clients wanting to purchase fabric for making handmade masks. Also, we are still offering free samples, order pick up and shipping, and Facetime appointments. Click here for the latest updates on what we're doing to help you with your projects.
---
Helping you create beautiful spaces since 1988
Designer Discount Fabrics & Furniture has been helping clients and designers alike design the perfect space for over 30 years. We finally decided to bring our fabric selections and services online to serve more people worldwide.
Since we carry hundreds of fabrics in stock and thousands more to order, we will be adding inventory to our online store little by little. If you're looking for something special or not sure where to start, please use the sample request form. We'll help you find exactly what you need from our in-store selection.
---
Blog
Here's a riddle: What's with the width of double width fabrics? We break down what double width means, how to calculate yardage, and how it affects how the fabric will look...
---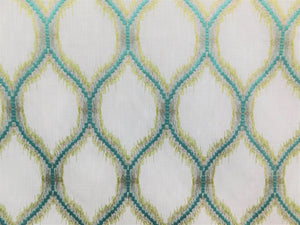 Embroidered Flamestitch Trellis Faux Linen